In addition to concrete production, we also offer concrete transportation and installation services.
The Čirjak family transportation business was established in 1974, and in 1996 its scope of activities was expanded to include transportation and installation of all types of concrete.
In 2004, the Čirjak transportation business grew into Čirjak d.o.o., a limited liability company providing a wide range of services on the territory of the Zadar and Šibenik-Knin Counties. In addition to concrete production, transportation and installation services, the company's present offer also includes construction and sale of flats and apartments and the related maintenance and management services, which activities are performed by our sister companies, Kamen mediteran d.o.o. and Gloria d.o.o. Our high-quality residential developments are situated in some of the most attractive locations in Dalmatia.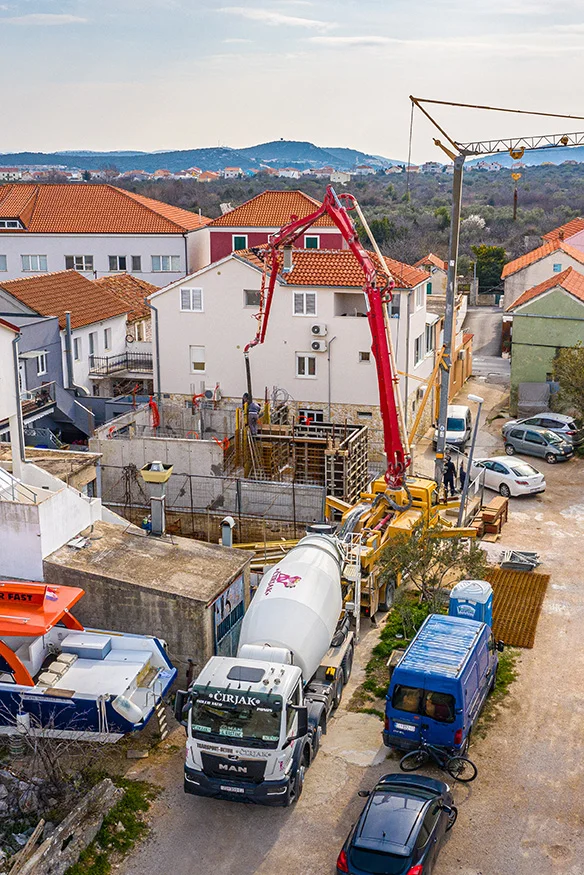 To ensure that we are always able to respond to market/construction-related needs, we keep the following fleet at our disposal:
• 10 concrete mixer trucks,
• 3 concrete pump trucks (24 m, 36 m, and 38 m),
• a Pumi (24m),
• a cement tanker truck.
The company is based in Biograd na Moru, Bukovačka 25, in the city's industrial zone.
Contact: 023-386-010